On Thursday, October 3rd, Pep Real Estate will showcase our premiere property located at 69 Mercer Street.
True to Soho's storied spirit, the evening will feature visual art, live entertainment and performance.
This rare vacancy  is ideal for pop-ups or short term leases for high-end retailers,  fashion houses, art gallerists,
film location scouts, record release parties, fashion houses and  multi-level events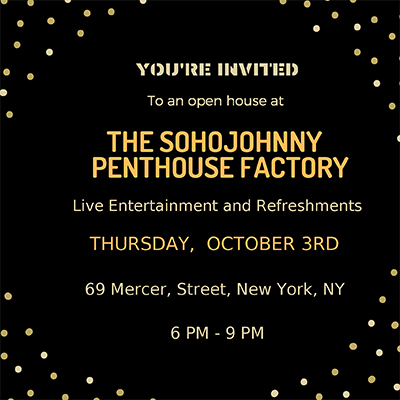 69 Mercer Street is Classic Soho architecture: five loft like floors are crowned by a double penthouse.
This 15,000 SF, 6-story, elegant cast-iron elevator building is equally as ideal for brands that seek to create
full-building identities in SoHo as it is for tenants looking for a unique and impressive showcase office.
Both long and short terms welcome.
Amenities such as a 1,600 SF penthouse terrace, and a Key-locked elevator
which opens to a soaring, 30 foot atrium with floor-to ceiling windows,
and a suspended steel staircase under a large skylight, are just some of the many outstanding features.
During the evening, we will also showcase our Soho classics at
39 Wooster, 76 Wooster and 25 Howard Street, 139 Charles Street, and 685 Washington Street.
At the same moment, you are welcome to schedule a viewing in advance
by emailing john@peprealestate.com or by calling (212) 925- 3280 x101.
Floor plans and images are available at PEPREALESTATE.COM.
As space is limited, please RSVP to John@peprealestate.com
with your name and the names of any guests together with their emails.
Yours Truly,
John "SoHoJohnny" Pasquale
Particle is on a mission to revolutionize the fine art industry and every work acquired by the company will be included in the "Particle Foundation," a nonprofit that will maintain, display, and tour the collection on behalf of the community.