LOVE GHOST RELEASES
"CHASIN' MONEY AND BITCHES"
SINGLE + VIDEO
" The L.A. rockers sound as bratty as any of multi-platinum miscreants who've had hits on KROQ, but they fall in more with the play-actin' bad boys. What the song reflects, though, is having come of age in an era when popular culture glorifies materialism and hedonism, which makes it the saddest kind of parody: funny but true." –Buzzbands
LISTEN TO "CHASIN' MONEY AND BITCHES" : HERE
Los Angeles band Love Ghost have released their new single "Chasin' Money and Bitches," produced by Danny Saber (The Rolling Stones, Alice Cooper,  the Charlatans, Public Enemy  etc.)  with an accompanying video directed by Julian SK of SK Films (Alicia Keys. Soulja Boy, Rich the Kid and more).  The song is a comedic and hedonistic look on what it is that our culture values most, from the viewpoint of a teenager living in Los Angeles "'Chasin' Money & Bitches' is supposed to be a fun song," frontman Finnegan Bell told Buzzbands LA. "There's a lot to be upset and distraught by right now. Coronavirus, politics, world hunger, mental illness, etc. This song is tongue-in-cheek, and I hope it provides relief and healing to anyone that's suffering right now."
The video follows the tongue in cheek narrative of the song following a group of teenagers through a day in the hyperbolic reality of carefree living, reminiscent of legendary music videos from Beastie Boys and the Foo Fighters, who take the music seriously but don't take themselves seriously. "Right when I heard their music I was really drawn to the talent oozing out of every piece of the record, " said the video's director Julian SK of SK Films.  "Finn's voice is one of a kind and the instruments make you bang your head. We shot the video over a two day period in Los Angeles. We rented an old school whip and got pulled over by the police and kicked out of a liquor store on the first day, we didn't care because we knew we got some great footage. We wrapped the first day shooting in Boyle Heights at a house where Ty Dolla $ign filmed his video for 'Stand For.' The second day was the bigger day of the two, we had over 50 extras and actors. We did a whole classroom scene as well as a house show and party vibe on the soundstage. This shoot was one of the most fun I've had directing a music video and I couldn't be more excited for everyone to see it."
WATCH "CHASIN' MONEY AND BITCHES" HERE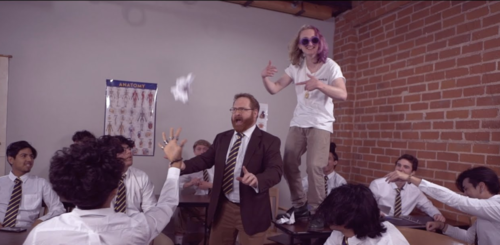 The song is the follow up to their breakout single, the grunge era-inspired  "Let It All Burn," part of a collection of songs all produced by Danny Saber and the scorcher of a video, directed by Dean Karr(Queens of the Stone Age, Mark Lanegan).  The song was featured on Spotify's coveted "New Noise" playlist in addition to Apple's "Breaking Hard Rock" and "Fresh Blood" playlists, having garnered over 1 Million streams since its release with close to half a  million streams on the video alone.
"There's something cruelly superior about 'Let It All Burn.'" – Rawckus Magazine
Love Ghost is Finnegan Bell (guitar and lead vocals), Ryan Stevens (bass and background vocals), Samson Young (drums and background vocals), Daniel Alcala (guitar) and Cory Batchler (keyboards). Although the band is young, barely in their 20's, Love Ghost has been in existence since Bell was in Junior High, so their resume reads like that of bands twice their age. They have toured  Ireland, Japan,  Ecuador, played the mainstage at Festival off in Ambato,  and have sold out shows in their hometown of Los Angeles. They have supported Buckcherry, Berlin, Smash Mouth, The Young Dubliners, The Tubes, Fuel, and Irish singer/songwriter Mundy. Their music videos have won numerous awards from over 30 film festivals around the world and the band was awarded Best Alternative Rock Band by the Hollywood Music in Media Awards, and received The Jean Luc Goddard Award from Cult Critic Magazine.
As with all touring bands, Love Ghost's Spring tour was put on hold due to COVID-19 but the band will continue to release music throughout the Spring with plans for an EP this summer.
KEEP UP WITH LOVE GHOST
https://www.facebook.com/loveghost.official/
https://www.instagram.com/loveghost_official/
https://twitter.com/LoveGhost_
https://www.youtube.com/channel/UCMNUK51hO36Tog1DRoAJ0-g
https://soundcloud.com/loveghost_official