Lethal Amounts is thrilled to announce the second anniversary of the Sex Cells club night featuring a special performance from music and cultural icon Marc Almond of Soft Cell. This is a particularly special night since Sex Cells was created in homage to the lurid and seedy lyrics of Marc Almond. It's a combination of the band's name and their song "Sex Dwarf." The song describes a dominatrix in a Rolls Royce seducing a dwarf to participate in acts of exhibition and extremism to gain popularity and fame, who would fit in perfectly with the regular cast of characters that have come to define the night.
SEX CELLS TWO YEAR ANNIVERSARY 
WITH MARC ALMOND
Saturday, February 15 @ The Globe
740 S Broadway
Los Angeles, California 90014
"It's my kind of  playground…one for us fabulous freaks"  ~Traci Lords
"Marc Almond is an inspiration to the night in many ways," says creative directed and Lethal Amounts founder Danny Fuentes. . His lyrics speak to the disenfranchised trying to find meaning in life. He sings to the outsiders and the left behind. To me, Marc Almond is more than a singer because he is writing about the underclass in a beautifully romantic way and empowering us who don't have many heroes to look up who genuinely speak to our kind."
Although Sex Cells is a club night, patrons clubhouse for some of LA's most eccentric and creative people to get decked out and turn heads with talent line-ups and music and truly unique to the night.  As with most things Lethal Amounts, the club night has its foot in the past and in the future, paying homage to the originators of electronic music while playing modern day electro and techno that being played in London or Berlin and has yet to catch fire in America.
Marc Almond will be performing a shortened 40-minute live set, accompanied by his band. The night will include performances by legendary performance artist, The Voluptuous Horror of Karen Black, Hercules and Love Affair (DJ Set), Sateen and will feature resident Lethal Amounts resident DJ's Danny Lethal and Matthew Pernicano along a number of exciting guest performers to be announced soon.
Leading into the celebratory night with Marc Almond the Lethal Amounts gallery will be hosting a Sex Cells photography exhibit opening at the gallery on Saturday, January 26th. The exhibit will feature the work of Levan TK who has captured the fascinating and eclectic cast of  Sex Cells characters over the past two years. Past performers mad guests include Prayers, Brooke Candy, Traci Lords, Amanda LePore, Sateen, Cold Cave, Miss Kittin and the Hacker, Nitzer Ebb, Bauhaus members, and other legends.
SEX CELLS TWO ANNIVERSARY EXHIBIT
Saturday January 26 @ 9:00 PM 
1226 W 7th St
Los Angeles, California 90017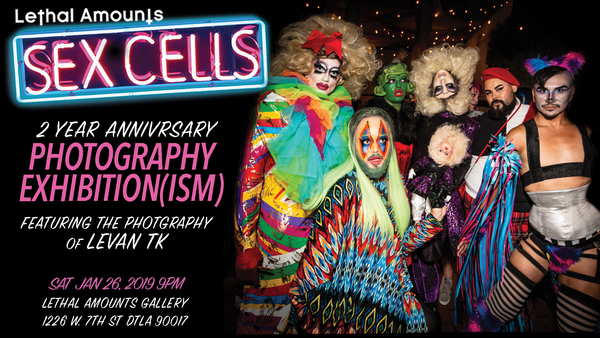 ABOUT LETHAL AMOUNTS
Lethal Amounts inhabits a physical gallery space in downtown Los Angeles that features three exhibition rooms and over 2,500 sq. ft. The gallery focuses on subversive and counter-culture themes throughout history, addressing the social and artistic value of underground movements while highlighting taboo topics. They showcase the extremes of individuals who have moved culture forwards, living on the edge and outside of societal norms. Rock 'n Roll of the past that has crossed over into pop culture fanaticism, street culture influences and cult hero worship. Artists who have shown in the gallery include Leee Black Childers (the house photographer for Andy Warhol's Factory), famed punk rock photographer Edward Colver, Nick Zinner from the Yeah Yeah Yeahs, Al Jourgensen, Psychic TV, John Wayne Gacy and more. Highlights from this year include the "Nick Cave Smoking" exhibit, Shawn M. Crahan (of Slipknot's) "His Whores Exhibit," and on Halloween, Lethal Amounts produced an Anton LaVeyevent featuring an exhibit of photography and ephemera from the colorful, and notorious cultural icon (see the LA Times mention HERE and the LA Weekly Cover story HERE).
This ethos of championing fringe artists has spilled into the nightlife and music scene with regular monthly parties throughout Los Angeles.  Regular events include Pure Trash, the Glam Rock night who'd first performer of the year was Sylvain Sylvain from the New York Dolls, Sado Maso Disco, the dark wave night that just partnered with Alice Glass for her video release party, Queen Bitch– a night of Drag n' Roll (a killer drag queen band doing excellent rock covers),  and the flagship party Sex Cells, that has hosted artists like Brooke Candy, Amanda LePore, Traci Lords, Prayers, Wes Eisold of Cold Cave and more.
LETHAL AMOUNTS
1226 W. 7th St Los Angeles CA 90017
Store Hours: Saturday & Sunday 12pm-8pm
213-265-7452  |  INFO@LETHALAMOUNTS.COM
a powerhouse performance by Sadie Katz and SohoJohnny as you never thought you'd see him