JUNGLEPUSSY SHARES NEW SINGLE "THEY KNOW"

ON HEADLINING NORTH AMERICAN TOUR
Junglepussy by Paolo M Testa
Following the release of her video for standout song "All of You", New York's Junglepussy is back to share a new single. "They Know" is the first offering of new music from JP since she released JP3 earlier this year. JP is also embarking on her headlining North American tour, kicking off last night in Atlanta, the tour will take JP through 18 cities in the US and Canada. The tour caps off a successful first half of 2018 for Junglepussy, with the release of her album and also starring in an Andrew Bujalski film, 'Support the Girls' alongside Regina Hall and Haley Lu Richardson.
After debuting online in 2014 with her single "Cream Team," JP built a cult following around quick-witted, tongue-in-cheek lyricism that populated her debut album Satisfaction Guaranteed. The blueprint for her persona was a no-holds-barred exercise in self-love and empowerment, something that drew the attention of the media. Her stand out track, "Bling Bling" was streamed over 1.5 million times, and "Picky Bitch Checklist" became a mission statement for fans all over. On follow-up Pregnant With Success, JP created lush landscapes and character-lead narratives that cemented her as a formidable force in NYC rap. While lecturing at Yale University, JP dedicated the album to "anyone who's ever planted a seed, anyone who's ever waited patiently for something to come into fruition." Junglepussy's new album is a natural continuation and elevation of her catalogue, filled with trademark humor and the joy of self-empowerment.
Hear "They Know" above, and see below for full tour routing.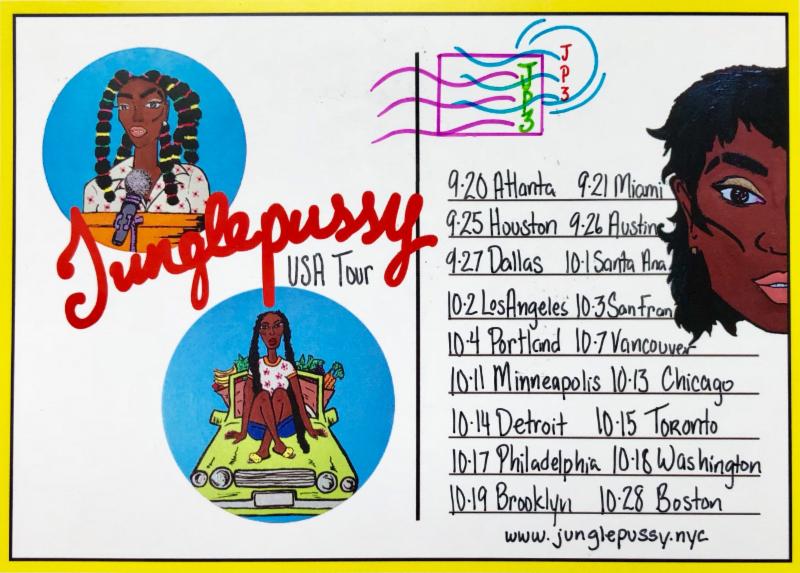 Tour Dates:
9/21 – The Hangar – Miami, FL
9/25 – Studio @ Warehouse – Houston, TX
9/26 – CATIL – Austin, TX
9/27 – Trees – Dallas, TX
10/1 – Constellation Room @ The Observatory – Santa Ana, CA
10/2 – The Echo – Los Angeles, CA
10/3 – Slims – San Francisco
10/4 – Star Theater – Portland, OR
10/7 – Fortune Soundclub – Vancouver, BC
10/13 – Chop Shop – Chicago, IL
10/14 – Magic Stick – Detroit, MI
10/17 – The Foundry @ The Fillmore – Philadelphia, PA
10/18 – Songbyrd – Washington, DC
10/19 – Zone @ Elsewhere Hall – Brooklyn, NY
10/28 – Middle East – Boston, MA
"They Know" track art
What the press is saying:
"Barbed bar after barbed bar, Junglepussy exudes confidence" – The FADER
"Junglepussy talks shit and pulls apart the patriarchy as she experiences it." – Pitchfork
"Her main strength lies in her refusal to sacrifice any part of her true self." – Noisey
"An arrogance that is absolutely charming" – Refinery 29
"The most self-aware, truth-spewing MC in the game"
 – ELLE
More Info:
where an innocent child discovers his parents are from another planet