With an upbeat vibe, Mr. E is back in his neighborhood, walking with his usual companions, the sky, the bees, and of course the birds, singing a bright and playful tune with a hooky chorus, but asking the ultimate question 'Are We Alright Again?'
After teasing us with two singles a few weeks ago, 'Baby Let's Make It Real,' and 'Who You Say You Are,' EELS is celebrating the release of a new album, 'Earth to Dora,' with the latest single 'Are We Alright Again?'
Speaking about the new record, E says, 'These songs came about just before the pandemic hit and changed everything. I'm hoping they can be, maybe kind of soothing or something. To hear songs dealing with things we are dreaming about getting back to. Or maybe people are dealing with some of the topics right now as well. Just one song was done in the thick of the early pandemic days, 'Are We Alright Again,' which is kind of a quarantine daydream I desperately needed to have.'
The new album, which will include the two previously released singles, will be the 13th full-length EELS album and their first since 2018's 'The Deconstruction.' The EELS are a beloved band since their 1996 debut, 'Beautiful Freak,' and I personally became very intrigued by Mark Oliver Everett when I watched the award-winning documentary 'Parallel Worlds, Parallel Lives' where he undergoes an epic search to understand his quantum physicist father, Hugh Everett III.
In 2008, E published his highly-acclaimed book 'Things the Grandchildren Should Know' and 2015 saw the release of the band's extraordinary Royal Albert Hall live album and concert film. We should not forget the band's contribution to TV series, 'Fresh Blood' served as the theme song to HBO's 'The Jinx' and from 2016 to 2018 E appeared in Judd Apatow's Netflix original series 'Love.'
The highly anticipated new album is due October 30 via E Works/[PIAS]. Recorded at the EELS' Los Feliz, California studio, the album is produced by band leader Mark Oliver Everett (a.k.a. E) and performed by E, Koool G Murder, The Chet and P-Boo.  The album is set to be released digitally and as a standard 12" LP as well as a deluxe double 12" LP box set including translucent red vinyl, a litho print, CD Digipak, A5 sticker sheet, fridge magnets, and a 12" zoetrope slip-mat. Pre-order Earth to Dora HERE.
Here is 'EARTH TO DORA' tracklist: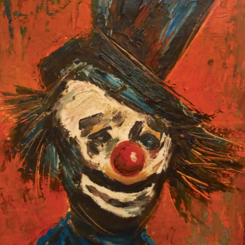 1. Anything For Boo
2. Are We Alright Again
3. Who You Say You Are
4. Earth to Dora
5. Dark and Dramatic
6. Are You Fucking Your Ex
7. The Gentle Souls
8. Of Unsent Letters
9. I Got Hurt
10. OK
11. Baby Let's Make It Real
12. Waking Up
FIND EELS ONLINE
Facebook | Instagram | Spotify | Twitter | Website