twst SHARES CLAMS CASINO REMIX OF "GIRL ON YOUR TV"
twst
SHARES CLAMS CASINO REMIX OF "GIRL ON YOUR TV"
TWST0001 EP OUT APRIL 24
"St Vincent reborn as an internet-spawned pop star: "Girl on Your TV" inflates lullaby-worthy melodies like a swelling Thanksgiving parade balloon, and she slips razor-sharp observations about sexualisation and the lie of technology into her lyrics. "Always," a wracked conversation with Siri, plays like a Gen Z makeover of Kate Bush…"—The Guardian
"Futuristic London-based starlet twst is certainly taking musical production
to the next level."—V Magazine
twst, the project of Welsh songwriter, vocalist and producer Chloé Davis, unveils the Clams Casinoremix of her track "Girl On Your TV" today—watch a visualizer here and stream the track here—ahead of her debut EP TWST0001 out April 24.
The EP will feature previously released tracks, including "Are You Listening?, "Always" and the original version of her debut track "Girl On Your TV," all of which she co-produced with Danio Forni. The previously unveiled "sad girls club but u gotta be cute," which V Magazine premiered, finds twst producing on her own, and Rob Kinelski (Billie Eilish, King Princess, Alice Merton, Alessia Cara) has mixed all of the songs she has shared thus far.
Born and raised in Barry, Wales, twst grew up working in her father's chicken factory. At 14, she left home and formal education and relocated to a recording studio in the South Wales Valleys where she began teaching herself about music production and pop culture. Now London-based, twst writes, produces and directs all of her music and videos, mostly within the four walls of her bedroom, and frequently collaborates with other creatives she has befriended from London's close-knit music community.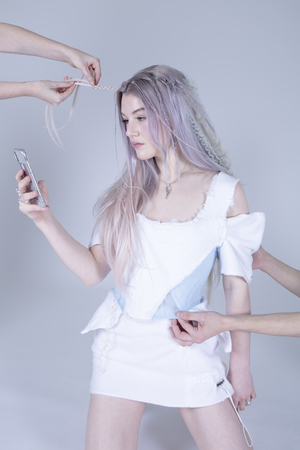 twst—TWST0001 EP
1.   Are You Listening?
2.   Girl On Your TV
3.   sad girls club but u gotta be cute
4.   Always
5.   Are You Filming Me?